Welcome to the Presbytery of Transylvania Pastoral Transitions Commission webpage!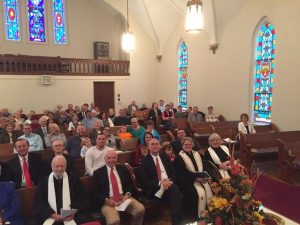 The Pastoral Transitions Commission will shepherd a congregation from the moment a Pastoral leader decides to leave, is removed from office or retires until a new leader is formally installed. This commission is responsible for working with the Session to determine the best course of action for a congregation searching for new, permanent leadership, including all the various steps of the PNC process including examining and receiving the new teaching elder/CRE, approving any Interim contracts and new terms of call. The Commission will also work on a suggested Installation Commission for the newly called Pastor.
The design of this commission is to create a "turn-key" process to ease the burden, eliminate the confusion and lower the anxiety for congregations in transition. The Commission recommends Presbytery minimum terms of call each year after a thorough evaluation of national and local salary trends. This commission shall appoint moderators to Sessions of churches with leadership vacancies due to the search process and other duties assigned by the Presbytery or Coordinating Commission. This commission may recruit, seek additional help, and build teams with people not on the commission for short-term projects when necessary. This Commission has the authority to receive and dismiss teaching elders and receive candidates who have been certified to receive a call (pending their successful examination on the floor of the presbytery); the authority to approve calls, or changes in calls, when they are found to be in order, and to appoint commissions to ordain and/or install; the authority to dissolve pastoral relationships in cases where the teaching elder and congregation concur; the authority to grant the status of Honorably Retired; the authority to approve validated ministries and confer upon teaching elders the status of member-at-large; the authority to counsel with a local church session and approve the election of a Pastor Nominating Committee; the authority to grant permission to a local congregation to circulate a Ministry Information Form.
Resources for the PNC and Session:
On Calling a Pastor 2015– A comprehensive document for Pastor Nominating Committees
Blank Ministry Information Form-WORD
Ministry Information Instructions
Leadership Competency Definitions
Temporary Supply Contract for Minister of Another Denomination
Temporary Supply Contract for PCUSA Minister
Church Leadership Connection The PCUSA site for churches and Pastors searching for call
Policy on the relationship between a former minister and the congregation
Pastoral Call Form (Fillable Form)
Commission to Ordain and Install
Pulpit Supply List January 11, 2021
Pastoral Transitions Commission Members:
Rev. Lisa Eye, Chair, Pastor Corbin Presbyterian Church
Elder Bill Reed, Commissioned Ruling Elder
Elder Juanita Spangler, Graham Memorial Presbyterian Church, Whitesburg, KY
Rev. Julie Olt, Pastor, Cynthiana Presbyterian Church, Cynthiana, KY
Rev. Jim Gilbert, Honorably Retired
Rev. Erin Rouse, Validated Ministry
Rev. Janice Stamper, Minister
Elder Eric Schonblom, Buckhorn Lake Area Church, Buckhorn, KY
Elder Barbara Rogers, Hunter Presbyterian Church, Lexington, KY